TYPE VKA,VKJ,VKM
---
Technical data Type VKA
Motor
11 KW
n = 1450 rpm
Feed

0,05 - 30 m/min

Pass width
280 mm
Pass height
120 mm
Magnetic chuck width
150 mm swiveling
Grinding length
2100 | 3100 | 4100 | 5100 | 6100 mm standard length
(other lengths and intermediate lengths up to 15.000 mm are possible)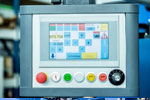 Our type 5VKA sharpens the knives and then is doing the honing in one clamping. Please note, that this has conciderable asvantages:
we do not use pressure air neither sand paper to hone the knives how it is usual with a honing machine.
we use a solid, wear resistant honing wheel that has to be exchanged very rarely.
furthermore, the knife has to be clamped only once and then only the angle has to be adjusted.
Removing the knife from the grinding machine and new positioning in a honing machine will not apply. This saves way and time and increases knife quality, as the knife remains in the same position as at the beginning of the working cycle.
---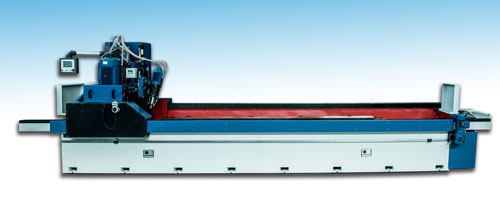 Technical data Type VKM
Motor
15 KW main motor| 1,5 KW honing spindle
n = 1450 rpm | 1500 - 4000 rpm
Feed

0,05 - 30 m/min

Pass width
400 mm
Pass height
100 mm
Magnetic chuck width
200 mm
Grinding length
3100 | 3600 | 4100 | 4500 | 5100 mm standard length
(other lengths and intermediate lengths up to 15.000 mm are possible)
Highest Precision Veneer Knife Grinder and "Easy Set Controls" with Lowered Front Guide Rail (for easy access) with Accordion Way Covers (to protect the rails) and a leaning guard to the protect the rails.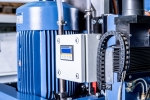 Also includes Highest Precision ZS-Micro Bevelling and Honing Attachement.

This Grinder Series is the culmination of many years experience and ideas generated in the knife grinder and grinding buisness. This grinder series represents all of the best in technology in on package.
It is a deluxe grinder. With Super Guideway System encompassing Thoroughpaced Guideways and Recirculating PreLoaded Roller Bearings for the carriage travel plus the fact the guideways and Mag Bed are precision ground together on a very large universal traveling table Maching Centre/Grinder we are able to realize accuracies never before imagined.
---
Technical data Type VKJ
Motor
220 | 250 | 305 KW
n=320 rpm
Feed

0,05 - 35 m/min

Pass width
1300 mm
Pass height
320 mm | 550 mm
Magnetic chuck width
1200 mm stationary
Grinding length
1000 | 2000 | 3000 | 4000 | 5000 | 6000 mm standard length
(other lengths and intermediate lengths up to 15.000 mm are possible)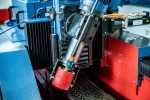 Well-proven alternative to type VKM having a very economical price to power relationship. The future of Sharpening Veneer Knives ist the combination of Grinding and Honing/Super Finishing in one setup resulting in less grinding time.
At the same time, knife endurance will be considerably improved. Even with this mid-range machine, very good results can be achieved.